Handmade Mixed Sweets 130g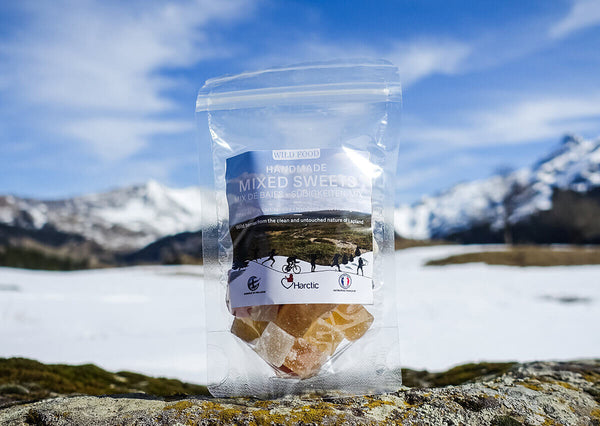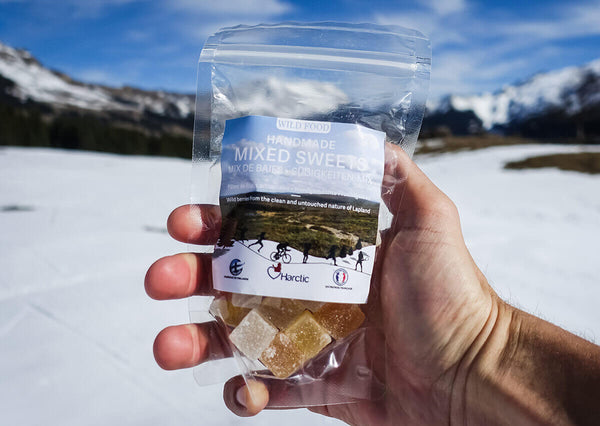 These sweets are loved for their mix of flavours from the Finnish Lapland
Hand-picked berries transformed into delicious handmade sweets
Real flavour of rare arctic berries of Finnish Lapland
Easy to take for quick energy
Perfect during a hike, cycling trip or other sports activity
Product Description
These sweets are made completely from scratch by hand. From the moment the wild berry is hand-picked in the unpolluted forest in Lapland to when the label is placed on the bag: every moment is carried out with care and love for the final product.
The handmade sweets are produced in small batches, ensuring a consistent high quality and fresh ingredients.
The sweets contain rapidly absorbable sugars composed of 100% natural ingredients. The final product is bursting with natural flavours from the wild nature of Lapland to the very last bit. These sweets melt in the mouth and will taste better than anything you've tasted before. They are easy to take and give the necessary energy very quickly. And kids love them!
This mix of delicious marmalade sweets lets you to take a peek into the Lappish berry forests and marshes. Its Finnish wild berry threesome – cloudberry, lingonberry and black crowberry is freshly seasoned with anise hyssop and sweetgrass.
The black crowberry of Lapland (Empetrum nigrum) is a bit bigger, juicier and flavoursome than its southern cousin, containing plenty of vitamin C and flavonoids.
All the berries and herbs used in this product come from the clean nature of Finnish Lapland.
Benefits
Wild berries from the clean, unpolluted & untouched nature of Finnish Lapland; 100% natural
Great as a snack, aperitif and dessert
Superb natural snack during a sports activity
No chemicals, artificial colours or aromatic agents
Nutritional Information
Ingredients: Sugar, glucose syrup (WHEAT and/or corn), 22% cloudberry (Rubus chamaemorus), 22% crowberry (Empetrum nigrum), 11% lingonberry (Vaccinium vitis-idaea), water, hyssop, sweetgrass (Hierochloe hirta ssp. Arctica), jellying agent (pectin), acidity regulator (lemonacid)
Per 100g:

| | |
| --- | --- |
| Energy | 1277 kj/ 305 kcal |
| Fat | 0,05 g |
| - of which saturated | 0,09 g |
| Carbohydrates | 73,4 g |
| Protein | 0,03 g |
How to Use
The berry sweets are ready to use as a snack during a sports activity. They are also great for decorating for example a birthday cake, to be served as an aperitif with salted nuts or as a dessert – place them on a cocktail stick and enjoy with melted dark chocolate.
How To Store
After opening, tightly close the bag with a paper clip and keep in a dry place out of direct sunlight.
Shipping
Same-day dispatch for orders placed by 12 noon. Other orders are shipped the next business day.
All deliveries are tracked.
After dispatch, you will receive an email notification to track your order.
If there will be a significant delay in shipment of your order, we will contact you via email or telephone.

DELIVERY COSTS
Annecy area:
Local delivery: 0 €
We will contact you after your order.

France & EU:
Free shipping on 60€+
Standard shipping, order below 60€: 6,90€
Express shipping, order over 60€: 6,90€
Express shipping, order below 60€: 9,90€

Norway, Switzerland, UK:
Standard shipping, order over 60€: 9,90€
Standard shipping, order below 60€: 12,90€

Rest of the world:
Standard shipping: 20,90€*

*Your order might incur charges and are decided by your local customs office and these fees can include clearance fees, customs duty, good and services tax (GST) and other taxes. Unfortunately, Harctic has no control over these charges. We recommend contacting your local post office if you are unsure about any fees that might be relevant to you.
How much import VAT and customs duties for Swiss orders?
Customs duties import VAT information for Swiss orders:
Import VAT does not apply if the total value of your order (products + delivery costs) is less than CHF 200.− (products subject to a VAT rate of 2.5%).

Returns: As a perishable good, we are unable to offer refunds on purchases unless the product arrives defective or damaged. However with Harctic you have no risk; please see below for our TOTAL SATISFACTION GUARANTEE.
Total Satisfaction Guarantee
We're incredibly proud of all products available at Harctic. They're the best you can find.
Not satisfied with your purchase?
Reach out to our customer service at hello@harctic.com! If you have a problem, we'll solve it! Refund it. Replace it. Whatever it takes. We're here for you.
Your satisfaction is guaranteed with us.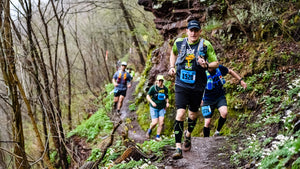 Sports
Fits easily in your pocket and keeps your energy levels up during performance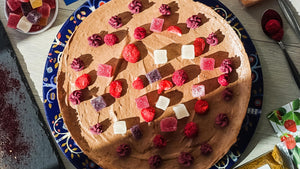 Decoration
Berry sweets look perfect on a cake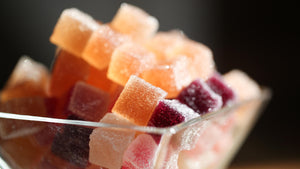 Snack
Enjoy the sweet taste of luxury, with or without melted chocolate!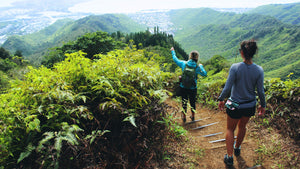 Hiking
You'll have an extra spring in your step with a bag of natural berry sweets in your pocket
Made in Lapland, Finland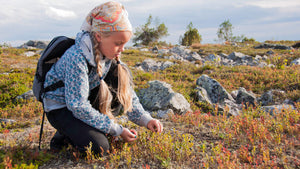 Arctic Superfood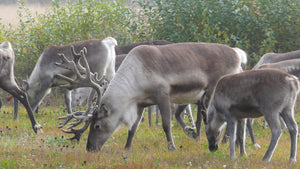 100% Natural
📷 Lapland Material Bank | Joonas Linkola, Nina Kostamo-Deschamps, Anna-Leena Jänkälä
Customer Reviews
07/12/2021
Théo L.

France
Super
Pour moi, le goût est essentiel et j'aime beaucoup le mix
03/09/2021
Nina C.

France
will buy again!
Great flavour! Love them!
03/01/2021
Corinne S.

France
Delicious !
Delicious and delightful to know how "healthy" these sweets are ! I will definitely buy them again, specially for my 8 years old son who loves them more than regular sweets.
Would definitely recommend Harctic products and will be ordering again.
Teri B
Great products that arrived very quickly.
Iva J
Incredible fruit quality. We can't wait for our next order!
Corinne